2005 BELMONT ESTATE VISIT: Friday morning 3rd June

It is with regret that this visit had to be postponed due to the serious illness of the Wife of the present owner of Belmont.

LONDON
Instead, and on the same day, there was a reunion lunch at St Stephen's Club, Queen Anne's Gate, London for those who had reserved this day, and who wished to meet up anyway.

WEST WICKHAM
Meanwhile down at Belmont, a mini-reunion for those who did not get the message!!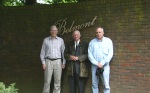 -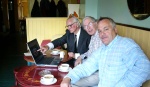 Second Southern Hemisphere Belmont Reunion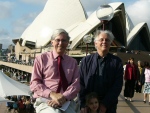 While on a recent lecture tour, Douglas Butler met up with Chris Stapleton (R), a senior planning consultant for the City of Sydney, in the Spring sunshine outside the Opera House on 24th September 2005. [The inaugural reunion was 30th November 2003]